Nature's Creations offers you great options for preparing your own backyard paradise. While an in-ground pool would be a wonderful addition to your home, you may want to consider all of your options. Nature's Creations is proud to offer NEPA homeowners an excellent selection of above ground pools by Garden Leisure.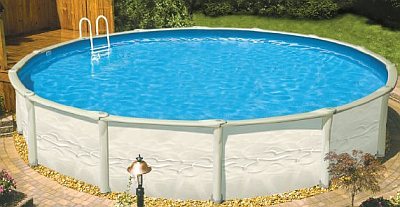 Nature's Creation has chosen Garden Leisure above ground pools because:

• They are built to last.
• Offer a variety of liner and wall designs to suit your taste.
• Installation-friendly
• Low-maintenance
• Easy to put up
• Easily removed
• A variety of add-on's and accessories

When thinking about an above ground pool, make sure you take some important elements into consideration. How much space do you have in your yard, and how much space do you want your pool (with all the trimmings) to occupy?
Before deciding what pool best suits your needs here are a few thoughts to consider:

What are your priorities when it comes to a pool? Consider the following questions:

o Is the look of the pool more important, or the size?
o Do you have a preference in terms of construction materials?
o What do you see yourself doing with your pool? Relaxing in the back yard? Playing with the kids? Getting some healthy exercise?
o Will your pool get used every day? Weekends only?
o How many people will use the pool? Just you and your spouse? A large family?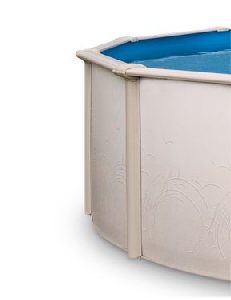 Measure where you plan to install your pool to figure out what size pool you want. Don't forget to allow for a possible deck and landscaping.
If the ground in your future pool area is sloped, consider a smaller structure to minimize necessary site preparation work.

How much money do you have to spend on your pool? Remember to set some money aside for chemicals, additional accessories, decking, landscaping, etc.
Above ground pools can meet all kinds of budgets:

o Steel pools are generally the least expensive, but deliver lots of quality for your dollar
o Resin pools cost slightly more, but are generally considered a bit more attractive
o Wood pools often cost more than their counterparts, but deliver style and refinement like no other type.

Your Northeast PA Relaxation Specialist, Nature's Creations can answer any questions you may have.

***Your brand new Pacific Pool installed in 5 – 7 days!***
***Lifetime Warranties***

NORTHEAST PA'S PACIFIC POOL SHOWCASE BUILDER

Your Showcase Builder in NEPA, Nature's Creations will see you through the entire building process from start to finish. And Nature's Creations, as with all Pacific Showcase Builders, offers you the pool with the best warranty in the industry: The Graphex pool system from Pacific Pools.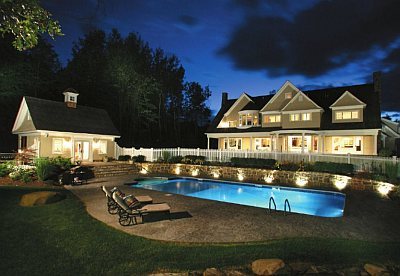 "When choosing your new swimming pool, the most important decision you will make really isn't the shape, size or liner pattern. Nothing influences your satisfaction with your pool more than the builder you choose!
Pacific Pools has selected top builders from around the country for its Showcase Builder program. These builders have excellent reputations for building swimming pools of exceptional design and quality. When you select a Showcase Builder to create your Pacific Pool, you're getting the best of the best."

Nature's Creations Offers:
Innovative Design of Pacific Pool

Your opportunity to design your own in-ground pool

More choices in liners

3-D pool liner patterns

6 exclusive patterns only available from your Pacific Showcase Builder

5-year full, 15-year prorated, transferable warranty

Maintenance Free Quality

The Latest Technology

The Greatest Durability

A Complete Palette of Shapes & Sizes

More Options

Lifetime Warranties

Pool Accessories

Lights

Sliding Boards

Diving Boards

Pool Toys

Décor to enhance your pool area (visit our gift shop)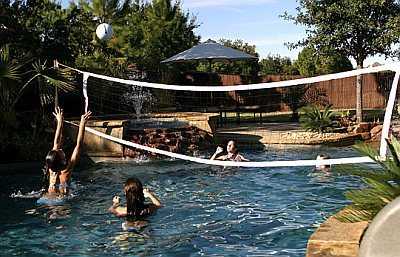 Warranty Info:
http://www.pacificpools.com/pools/

Nature's Creations In-Ground Pool Installation Area Includes: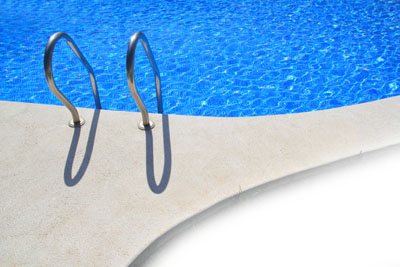 All of Wyoming County: Tunkhannock, Meshoppen, Mehoopany, West Nicholson, Nicholson, Factoryville, Lemon, East Lemon, Lake Winola, Mill City, Falls and the surrounding areas.

All of Susquehanna County: Montrose, South Montrose, Dimmock, New Milford, Hallstead, Great Bend, Clifford, Lenox, Lenoxville, Forrest City, Jackson, Thompson, and the surrounding area.

All of Luzerne County: Wilkes-Barre, Dallas, Trucksville, Shavertown, Kingston, Edwardsville, Larksville, Forty Fort, Swoyersville, Exeter, West Pittston, Pittston, Duryea, Avoca, Nanticoke, Huntington Mills, Lake Silkworth, Plains, Hunlock Creek, Sweet Valley, Mountaintop, and the surrounding areas.

All of Lackawanna County: Scranton, Clarks Summit, Chinchilla, Newton-Ransom, Dalton, Waverly, Fleetville, Dickson City, Archabald, Eynon, Carbondale, Blakely, Moosic, Minooka, Old Forge, Taylor, and the surrounding area.

All of Bradford County: Laceyville, Wyalusing, Stevensville, Towanda, Wysox, Rome, Sayre, Troy, Athens, Canton, and the surrounding areas

All of Sullivan County: Dushore, Eagles Mere, Forksville, LaPorte, Lopez, and the surrounding area.
Pool Installation also available in the Pocono Region of Northeast PA.

If you would like to know if Nature's Creations services your area please give us a call 570-836-7604